Obituary for Tammy Kalkman
**In lieu of flowers the family does ask for memorials or plants. Memorial donations can be made on this website.

Tammy was the beloved daughter of Patricia & Willy Bartels was the first baby born in the new Spirit Lake hospital on June 15, 1959. Mother of Melissa, Jamie & Cody. Grandmother to Lillian, Madison, Lukus & Olivia. Sister to Shelly, Randy, Judy, Teresa & Nicole. A sideshow performer & singer to her best friend & companion Chloe her cat. Fun & Favorite Aunt to several nephews & nieces. Close friend to many.
In 1976, after a rousting Thursday night Bingo trip with her Grandma Geri she welcomed her daughter Melissa to the world. At age 17, she was a single Mom back before it was cool & she raised her daughter with the help of her Mom, Aunt Sherri, Uncle Jimmy, Grandma Geri, her sisters & her favorite brother Randy.
She was united in marriage to Kevin Kalkman in June of 1980 & they were blessed with 2 children, Jamie and Cody. They made lots of memories together, rehabbed houses, sold insurance, traveled to Mexico, hosted holidays & enjoyed trips back to the farm were some of the highlights she talked about frequently. She always spoke of their marriage fondly & called him a friend all the way to the end.
In 2010 at age 51, Mom went to college and graduated in 2013 with Associates Degrees in Business, Business Administration & Management. She also obtained her Accounting & Management certificates. She was so incredibly proud of herself & her determination to complete all of her degrees.
A firecracker of a woman, who always had a joke, one liner or silly song to make you smile. She held several jobs over her lifetime but her favorites were Stephanie's and Front Desk at the Holiday Inn Express in Worthington. At Stephanie's she served up drinks, laughs and made lifelong friends. Her love of music fit right in at Stephanie's and she loved when she brought in live music from her friend Chaz Collins and Tom B. At the Holiday Inn she loved taking care of the guests and laughing with her friends she worked with. Always a jokester she quickly became one the guest favorites.
Some of our best memories of our Mom include her dancing throughout the house, singing while she did her makeup and all the Happy Birthdays she would sing to us. Every single year it was a phone call and her singing...horribly. Melissa sometimes told her not to quit her day job because singing definitely wasn't going to make her famous. She loved us kids in her silly, crazy way. A young Mom at age 17 she grew up and learned to be a Mom at the same time a hard job she met with determination and grit. She was the best Mom she knew how to be and loved her children unconditionally.
We saw all the sides of Mom and watched as she grew from a young woman into her early 60's. As a Mom to Jamie & Melissa she was still working on the learning curve so when Cody showed up he got all the best parts of her Jamie & Melissa competed for #1 for years but we always knew that her blue eyed baby boy stole that the day he was born. They had a special relationship & this last year while she was sick she loved his visits to cook for her. Jamie and Melissa spent many years with Mom & her sisters in Boji enjoying the beaches. Baby oil with iodine, lawn chairs and boomboxes were some of her favorite things to reminisce about. Family trips to Arnolds Park, Spending time with her Uncle Jimmy & Aunt Sherri, Picnics in Sioux Falls and all family gatherings were Moms favorite things. Spending time with her Mom, sisters and brother were some of her happiest times. She instilled a great love of family, honor and togetherness into us kids, but was also the Queen of not showing up. Which gave us all many laughs.
She adored her Grandkids and loved to show up in SD to steal them for weeks during the summer. Blue Line dinners, swimming at the hotel, poolside Shirley Temples & cheese balls sent by Grandma & served by the waitstaff and funny Grandma stories are some of the kids favorite memories. Cuddles & story time with Olivia were cherished by Mom. She was so proud of all of them and loved bragging about them on FB & to anyone who would listen. During these last few months her and Lukus were a team. He did the heavy lifting and she bribed him with cookies & cash.
She had a busload of nieces & nephews who she loved spending time with. In her family, kids were raised by her village of sisters, Mom, Aunt & her Grandma Geri, it wasn't uncommon for all of us kids to be bounced from house to house to be loved by the Aunts. After us kids grew up & left home she loved having Cole, Katie & Kyle stay with her for company & fun.
Mom was the queen of the butt dial and left us messages of random conversations she had with people where she bragged about her kids & grandkids while she was on our voicemails. Those are so cherished now.
On August 20th. 2020 Mom went in for a routine Hip Replacement and things didn't go as planned. She ended up with an infection that resulted in multiple surgeries, weeks of IV antibiotics, removal of the hip, left her wheelchair bound, with extended hospital and long term care stays. January 19th almost 5 months to the date of the first surgery she had the hip replaced again and two days later another surgery to remove 2 inches off the bone. She came home the next day (Friday) and was found unresponsive by her Grandson Sat Morning. Despite the heroic efforts of Lukus, the Emery Fire Rescue & Salem Ambulance Service Mom closed her eyes to this world on Jan 23, 2021 and opened them in Heaven. She joined her sister Shelly, Father Willie, Grandma Geri, Grandpa Jim, Grandpa Backes. Jack and Traci for coffee, cards, sing alongs, adult humor and laughs. We miss her already. With the decline of her health this past 18 months Mom didn't have much for funds and had missed her renewal payments for insurance just a week ago. Memorials in her honor can be made through Bensons Funeral Home. In lieu of flowers the family does ask for memorials or plants.
She is survived by her Mother Patricia Bartels, Sisters Judy Buller (Mike), Nicole Bartels, Teresa Williams, brother Randy Bartels, daughters Melissa & Jamie, son Cody, grandchildren Lillian Mentele, Madison Mentele, Lukus Mentele, Olivia Kalkman & her 2 bonus loved ones her son in law Brent Mentele & her favorite son stealer Robbi Collin who she loved dearly.
Visitation will be held on Thursday, January 28, 2021, from 6:00 p.m. to 7:00 p.m., at the Benson Funeral Home in Worthington, MN. Services will be held on Friday, January 29, 2021, at 10:00 a.m., at the Benson Funeral Home with John Nau officiating.


Previous Events
Visitation
Benson Funeral Home
1225 Ryans Road
Worthington, MN 56187
Service
Benson Funeral Home
1225 Ryans Road
Worthington, MN 56187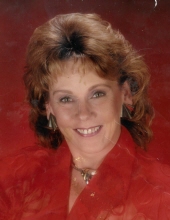 Thank you for sharing your
memory of Tammy
Provide comfort for the family by sending flowers or planting a tree in memory of Tammy Kalkman.
No thanks, please don't show me this again.