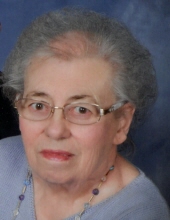 Obituary for Margaret "Peg" Aileen Ruesch
Margaret (Peg) Aileen (nee Lundahl) Ruesch was born August 11, 1936, in the Swedish Hospital in Center City, MN to Arnold and Leah (Sweeney) Lundahl. Shortly after her birth, the family moved to Minneapolis and were members of Trinity Lutheran Church of Minnehaha Falls. Even though Peg was an only child, she grew up with many cousins that were just like siblings to her. Peg was confirmed May 21, 1950 at Trinity Lutheran. Peg graduated from Nokomis Junior High in June of 1951. She then graduated from Augsburg College in 1959 majoring as a Deaconess with a minor in social work. From an early age, she was talented. At the age of 9, she took the "Wurlitzer-Maddy Musical Talent Test", scoring an "Excellent" rating. Her beautiful soprano voice could be heard singing in choirs if she wasn't accompanying the choral pieces. She gave piano recitals growing up and in college as well as teaching piano lessons although she claimed, she didn't have the patience to teach her own kids to play! She was an incredible artist, but gave up the chance to be one when she walked into the first day of art class and was instructed to sketch a nude model. After graduation, she worked for a short time with her mom at the N.W. National Bank in Minneapolis before accepting a position at First Lutheran Church in Worthington as a parish worker. Shortly after, she attended a dance and met the love of her life, a shy, farmer from Worthington. Peg and Larry Ruesch were married on August 31, 1963, in Minneapolis at Trinity Lutheran Church. After a honeymoon in San Francisco, they settled north of Worthington and she joined St Matthews Lutheran Church. It was quite a transition from city-life to farm-life but Peg enjoyed helping Larry especially if she could drive her tractor--the International 706. They were blessed with three kids. Peg was an organized, kind, patient, loving mom and grandmother. She enjoyed her "grandma-care" with her grandkids. She loved to travel, city band concerts and attending her grandkids' activities. She loved to bake (her homemade bread was the best), sew (making many outfits and dresses for her kids and grandkids), ceramics, knitting, macramé, stamping, making dried flower arrangements, decorating, shopping and antiquing collecting many pieces of pink depression glass. Her love for farm-life could be found in her collection of pigs. She did most of the decorations for her daughters' weddings. She was often asked to calligraphy on confirmation certificates for church. Peg filled her home with music as she practiced for church services, funerals and weddings. She was active in St Matthews as an organist/director of music, sang in the choir, directed the choir and played in the handbells. She was also the organist at St. John's Lutheran Church in Rushmore and was a substitute organist for area churches as well as at funeral homes. She was active in the U of M Homemaker's/Project Club, Stephen's Ministry and served on the building committee at St Matthews during the installation of the elevator as well as during the rebuilding of the pipe organ at St Matthews. Peg loved sugar-free raspberry latte's especially from Java Nau where they knew her by name. After falling and breaking her hip, Peg entered Sogge Good Samaritan in Windom in August of 2018, where her granddaughter, Jenn is a physical therapist assistant. She enjoyed therapy with Jenn and visits from her family and Larry until Larry fell ill in 2019. She would then visit him till he died on September 5, 2019. Peg slowly began to slip away after Larry's death and died on Monday, December 30, 2019, at Sogge Good Samaritan in Windom, at the age of 83.
Left to cherish her memories are her children and grandchildren Lisa (Tim) Scholtes, Jenn, Peter and Alex of Worthington; Mark (Heidi) Ruesch, Haley, Lexy and Madison of Round Lake; Anne (Mark) Wagner, Ashley of Heron Lake; many cousins and friends. Peg was greeted in heaven by her husband Larry, her parents, her parents-in-law Robert H. and Margaret (Nickel) Ruesch, many aunts, uncles, cousins and friends. Pallbearers are her grandchildren. Honorary pallbearers are her cousins.
Funeral services will be held on Friday, January 3, 2020, at 10:30 a.m., at St. Matthew Lutheran Church in Worthington, MN, with Pastor Mark Schreiber officiating. Burial will be held in the Worthington Memorial Gardens Cemetery. Visitation will be held on Thursday, January 2, 2020, from 4:00 p.m. to 7:00 p.m., at the Benson Funeral Home in Worthington, MN and also one hour prior to the service at the church.
We love you and will miss you dearly. Blessed be the Memory of Peg Ruesch.
In lieu of flowers, the family requests memorials.
Benson Funeral Home in Worthington is in charge of the arrangements.


Previous Events
Visitation
Benson Funeral Home
1225 Ryans Road
Worthington, MN 56187
Visitation
St. Matthew Lutheran Church
1505 Dover Street
Worthington, MN 56187
Service
St. Matthew Lutheran Church
1505 Dover Street
Worthington, MN 56187
Cemetery Details
Location
Memorial Gardens
29600 County Highway 35
Worthington, MN 56187