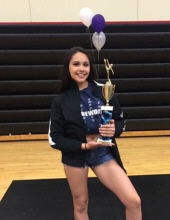 Obituary for Maida Esmeralda Garcia Villatoro
Maida Esmeralda Garcia Villatoro was born on October 18, 2006, the youngest child of Carlos Garcia and Nichole Dillon. She attended Sunny Days preschool before entering Worthington Elementary School where she attended K - 4th grade, then completed grades 5 and 6 at Fulda Elementary School.
Maida was sassy and highly energetic which suited her passion for dance. She was often seen doing pirouettes and other dance moves in the house. Maida recently earned a spot on the "Shining Fame" competitive dance team, and looked forward to competing in Orlando, Florida in May of 2020. When Maida was not busy with dance, she enjoyed playing basketball and track.
Maida was very outgoing, adventurous, and never afraid to try new things. Maida liked to refer to herself as a "Maverick" – an independent-minded person. Many kids considered Maida a great friend, especially those whom she protected from bullying. She easily made friends at Camp Shetek and had many neighborhood friends as well.
Maida had a great love for animals and especially loved her dogs, Sako and Zoey.
Maida looked up to her older siblings, Tony, Antonio, Saida, and Carlos (Moo Moo), and adored her younger brothers, Mauricio and Jancarlos. Maida passed away on Sunday, August 4, 2019, at her home in Worthington, MN.
Maida is survived by her paternal grandparents, Jose Gustavo Villatoro and Emperatriz Garcia of El Salvador; maternal grandparents, James (Bill) and Mary Dillon of Brewster, MN; parents, Carlos (Yaneth) Garcia of Fulda, MN and Nichole Dillon of Worthington, MN; siblings, Tony Lopez, Antonio Garcia, Saida Garcia, Carlos Garcia, Mauricio Garcia, and Jancarlos Garcia, and many aunts, uncles, and cousins.
Visitation will be held on Wednesday, August 7, 2019, from 1:00 p.m. to 3:00 p.m., with Funeral services to follow at 3:00 p.m., at Solid Rock Assembly in Worthington, with John Nau officiating.
In lieu of flowers, memorials are preferred to Shining Fame Competitive Dance Team of Worthington. In June of 2019, Maida made the competitive dance team for Shining Fame and was looking forward to competing in Orlando, FL. Competing in Orlando was Maida's dream and we would like to donate in her honor to Shining Fame so that her teammates can go dance for Maida in Orlando.
Benson Funeral Home in Worthington is in charge of the arrangements.


Previous Events
Visitation
Solid Rock Church
1730 Diagonal
Worthington, MN 56187
Service
Solid Rock Church
1730 Diagonal
Worthington, MN 56187