Obituary for Henry Roy Pfeil
Worthington, MN

     Henry Roy Pfeil was born March 20, 1931 to Roy and Mary Bird (Kirlin) Pfeil on the family farm.  He was baptized and confirmed in the Evangelical United Brethren Church.  Henry was a devout Christian all his life.  He attended early morning Bible study at the Gobbler and Bob's Café for many years.  
     He graduated from Worthington H.S. in 1949.  Henry joined the army and served in Stratford, England from1954-56.  While there, he was a proud bulldozer operator who helped build the airport that is still in use today.  
     He married LaVonne Ann Pomerenke on November 9th, 1957.  They lived on the family farm their entire married life.  They were blessed with a son Michael and a daughter Jolene.  
     Henry and LaVonne spent their time on the farm raising sheep, pigs and chickens.  In 1967, Henry built an 8,000 layer chicken house, which they used until their century farm (Ocheda View Farm) celebration in 1993.  
     When Henry and LaVonne needed a night out they spent time dancing as members of the Turkey Trotters Square Dancers, and also had couples night with others in the Circle "C" club.  With Henry's history in 4-H they also served as leaders of the Ocheda Beavers 4-H club.  
     Henry was involved in the community in many ways—especially: FFA, Nobles County Fair, President of Farm Bureau, Prairie Reapers, Bigelow American Legion and Kiawanis.  He also sang many years in the Barber Shop Chorus (The Noble Chordsmen) and the church choir. 
     He and LaVonne always enjoyed singing around the piano with Jolene and the grandchildren.  He was so proud of Mike's band: The Troublemakers.  Henry loved his grandchildren and bragged about their musical and academic accomplishments. He never missed any of their performances.  He would often quote passages to them that he learned at the Country School.  
     Henry was always a light-hearted person and loved to entertain people and tell jokes.  He enjoyed being a clown and driving his Jalopy in the Worthington Turkey Day Parades as well as other area parades.  Each year he would think of a new theme for his Jalopy.
     He spent a lot of time in the Nobles County Library and researched history.  He loved to share his findings with people.  Henry also enjoyed collecting unique treasures and could tell you the history behind each item.  Auctions and visiting people were his favorite past times.  Henry also spent many hours a day in his shop tinkering and creating gadgets to give as gifts. 
     Henry looked forward every year to helping with harvest.  He was best known for bringing his fried egg sandwiches for all the farm hands.  He always drove the International tractor with the grain cart.  Now, being a John Deere man at heart, he had many things to say about International tractors.  In later years, he always had his cell phone on and was on alert for daily runs to town for parts and flat tires.  He always spent extra time in town as he enjoyed telling jokes to the service men. 
     Henry passed away peacefully in his shop on April 10th surrounded by his life's unique treasures, tools and most prized possessions.
     Henry is survived by his wife LaVonne, son Michael (fiancé Deb Andrews) Tea, SD, daughter Jolene (Burdell) Kuhl Wgtn.  Grandchildren: Levi Wager, Amery Kuhl, Kristi (Adam) Bauer, Mindy & Kayli Kuhl.  Brother: Robert (Peggy) Pfeil Goshen, IN, as well as many nieces and nephews. He was preceded in death by his parents: Roy & Mary and three sisters: Marion Christopherson, Mildred Marsden and Jean Fellows.
     Funeral services will be held on Saturday, April 13, 2013, at 2:00 p.m., at First United Methodist Church in Worthington, MN, with Pastor Gordon J. Orde officiating.  Casket bearers will be Bill Weitgenant, Melvin Janssen, Pat Schoenfelder, Brian Korthals, Steve Ludemann, and Dan Anderson.  Burial will be in the Worthington Cemetery.

Visitation will be held on Saturday, April 13, 2013, from 1:00 p.m. to 2:00 p.m., at First United Methodist Church in Worthington.  Henry requested that the visitation and funeral be open for family, neighbors and true friends. 

In lieu of flowers or trinkets, memorials can be sent to Nobles County Historical Society or Nobles County Public Library.

Benson Funeral Home in Worthington is in charge of the arrangements.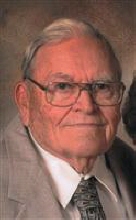 Thank you for sharing your
memory of Henry
Provide comfort for the family by sending flowers or planting a tree in memory of Henry Roy Pfeil.
No thanks, please don't show me this again.