Obituary for Franklin Eugene Brandt
Franklin "Smokey" Brandt was born on November 20, 1935 on a farm in Hartley Iowa. The oldest of 3 children with siblings Frederick "Fritz" and Betty the youngest were born to parents Alfred and Esther Brandt who were a combination of German, Russian and French-Canadian-Indian descent. The Brandt's were farmers in Primghar Iowa. In 1947 when Franklin was 12 years old, Alfred bought a farm in southern Minnesota and moved the family to the Mountain Lake area where Alfred and Esther would spend their years farming. They farmed a few hundred acres, raised 600 head of cattle and 50 brood sows.
Franklin has many memories of life on the farm where he worked beside his father Alfred who taught his son the meaning of hard work and shared the wisdom he learned with his son from his life and reading from the Bible. Franklin recalls spending summer holidays at a nearby lake celebrating with neighbors fishing and having a potluck. Thanksgiving and Christmas Holidays were also a special time when all the relatives got together for a grand family reunion.
Franklin's parents, followers of Jesus Christ made sure their children knew the LORD. At a young age Franklin had aspirations of becoming a pastor. Like most children growing up in the 1930's, Franklin attended a country school through the 8th grade. He later attended Mountain Lake High School where he played varsity football. Franklin was also involved in 4H where he served as president for 3 years. He also played first base on the 4H softball team. He graduated from Mountain Lake High School Class of 1954.
After high school he enlisted in the U. S. Army on November 9, 1954 where he served overseas for 3 years helping rebuild roads in England, Spain, Italy, France and occupied Germany. His specialty was Construction Machine Operator with a rank of Specialist Third Class Technician. He received the good Conduct Medal while serving in the Army. While most people call him Smokey, Franklin's Army buddies nicknamed him 'Tiny'. Franklin was honorably discharged on August 29th, 1957.
After returning from the Army Franklin's Father purchased him a brand-new Ford Retractable Convertible. He received much attention driving around Mountain Lake in his convertible. This prompted a Miss Windom pageant committee member to ask him to drive one of the local Windom beauty pageant contestants around in surrounding parades. A job he gladly accepted. The lovely beauty contestants name was Lola Mae Sykora. By the end of summer, they were going steady. Frankie courted Lola Mae for 2 years. Lola spoke fondly about dating Franklin. She mentioned many times that she had to be careful when out for a stroll around town window shopping. If she ever pointed out something she liked, he would have it for her the next time they went out. Franklin and Lola were married on November 19, 1960 and moved to Silver Bay Minnesota where Franklin worked at Reserve Mining on the maintenance crew in the Crusher. A job he thoroughly enjoyed. He spent many hours fishing and hunting in the pristine outdoors along Lake Superior.
Two years after moving to the north shore Franklin and Lola were blessed with their first child Tonya Laine Brandt who was born in March 20th, 1962. Franklin and Lola moved to Worthington Minnesota in 1965 where their son Todd Franklin Brandt was born. While living in Worthington, Franklin and a close friend started a trucking business that lasted a few years when Franklin went off on his own in his White Cab over semi-truck. Like a lot of over the road drivers, trucking became a way of life for Smokey and his family. He drove across most highways in the U.S. including old highway Route 66.
In the early summer of 1972, Franklin took Todd with him on a trucking adventure to New York City. The following week Franklin was back out on the road headed Eastbound on the Ohio turnpike near Brea when the steering column pin sheered, losing control of the truck it veered off the highway tipping over on the driver's side pinning Smokey between the doghouse (engine compartment) and the steering wheel. A family on vacation happened to witness the accident and contacted the police. Police and Fire rescue crews arrived sometime after where they tried exhaustedly to extract him from the overturned vehicle. Matters were made worse by the fact that the truck was hauling Sulfuric Sulfate, a highly explosive material. Smokey reported that while he was uncomfortable pinned on his side with hot engine oil dripping on his leg with the chance of an explosion likely, yet he was calm. He said he felt the calming presence of Jesus with him. Giving one more attempt before the police were to call for a clear all out, leaving Smokey in the vehicle. The rescue team was able to get him out of the truck. The truck exploded into a fireball shortly after the ambulance and rescue vehicles drove onto the highway. One interesting note of mention is Smokey's white leather-bound zippered Bible was unharmed in the whole ordeal. A testament to God's hand of protection numerous times over in Smokey's life. After recovering Smokey got back into the truck and drove down the road totaling 40+ years behind the wheel.
Smokey took some time from trucking when he became a Water Softener Salesman. He and his wife Lola worked together as Culligan salesman and did very well at it. Smokey won Culligan's prized Round Table sales award as one of the highest softener salesman in Minnesota.
In 2000 Lola became ill with colon cancer and went to be with the LORD on October 6th in 2001. While Franklin misses his wife dearly he cherishes the time he has with his family.
Franklin spent his life working hard to provide for his family. Like his father who taught him to love the LORD, both Franklin and Lola made sure their children knew and loved the LORD too. Franklin is always eager to make new friends, is a good talker and has a contagious smile. What can be said of a man who does all this but that he is well loved by all he meets?
Dad taught us kids the value of hard work and to never give in. We will always have fond memories of watching him doing his daily devotions and polishing his cowboy boots, riding in the truck with him, sitting on his lap watching TV and hearing stories of his earlier days. He never fails to end every phone call or visit with an "I Love You!"
Where will you find Franklin now days? You will find him telling fond memories of his life on the farm growing up, or about his loved and cherished wife or kids and his grandchildren.
Survived by Tonya (Dan) Melody along with their children Michaiah, Josiah, Eliana, and John; Todd (Patty) Brandt along with their children Emily, Joshua, Jacob, and David. Also survived by sister Betty Nelson; sister in-law Patty Brandt. Preceded in death by wife Lola Mae; brother Fritz; brother in-law Jimmy; and his parents father Alfred and mother Esther.
Memorial services will be at 11:00 AM on Wednesday October 10th, 2018 at First Presbyterian Church in Fulda, MN. A gathering of family and friends from 10:00 – 11:00 at the Church.
Burial will be at a later date.


Previous Events
Visitation
First Presbyterian Church - Fulda
401 N Lafayette Ave.
Fulda, MN 56131
Service
First Presbyterian Church - Fulda
401 N Lafayette Ave.
Fulda, MN 56131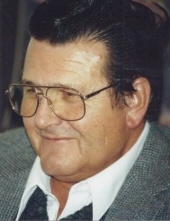 Thank you for sharing your
memory of Franklin
Provide comfort for the family by sending flowers or planting a tree in memory of Franklin Eugene Brandt.
No thanks, please don't show me this again.