Obituary for Alfred Earl Atchison
Alfred Earl Atchison was born on August 7, 1920 to William and Velma Ledebresee Atchison in Prescott, Wisconsin, the fifth of twelve children.  The family moved to Hastings, MN where Alfred spent most of his childhood.  Alfred had many jobs as a young man including working at a gunpowder plant and Rickbeils laying carpet and tile.
 
 Alfred met Betty Carol Fauskee at Apostolic Bible College in Tulsa, Oklahoma and they were married in Worthington on July 23, 1944.  Alfred was an ordained minister of the United Pentecostal Church.  He pastored a church in St. James for several years after their marriage.  They returned to Worthington in the early 1950s to help Betty's mother start Fauskee Nursing Home.  When Betty became a LPN, she and Alfred started caring for elderly people in their own home on Clary Street which they called Haven Home, while raising their young family.  In 1957 they purchased the Ludlow mansion on South Shore Drive, which they converted to a nursing home, called Lake Haven, and over the next 11 years built four additions to the facility.  Alfred did all the maintenance at the nursing home while Betty served as administrator and nurse.  Alfred got his nursing home administrator's license in 1976 so that Betty could fulfill a lifelong dream of returning to college to get her RN and BSN degrees at Dakota Wesleyan in Mitchell, SD.  The couple retired from the nursing home business in 1981 when their son and daughter-in-law Richard and Barbara purchased Lake Haven.  They moved to Tulsa, Oklahoma for four years but returned to Worthington in 1986 to manage Fauskee Nursing Home after Betty's sister Ferne Lundy passed away.   They retired for the second time in 1994 and spent their time between homes in Worthington, Spearfish Canyon, South Dakota and Spirit Lake, Iowa.
 
Alfred was a man of many talents.  He could build or fix just about anything.  He even dug the basement of the couple's first home by hand.  He loved the Lord and especially loved preaching and singing special music in church accompanied on the piano by Betty. 
 
Alfred was best known for his love of fishing.  Wherever he went, he always had a fishing rod, net and bucket of minnows in the back of his vehicle and would stop at the lake for a few minutes while running an errand to see if the fish were biting.  He always knew what size of hook and kind of bait to use and seldom came home empty handed.  His family always said that if there was only one fish in the lake, he could catch it.  He especially loved fishing for trout in Spearfish Creek in the Black Hills, but most often was found on the grade in Worthington where many people knew him and would stop to ask him for fishing advice or help him reel in a big one when his arms got tired!
 
Alfred passed away peacefully on May 25, 2012 at South Shore Care Center.  He is survived by his beloved wife of 68 years, Betty; two sons David and Richard (Barbara) Atchison, grandchildren Alan (Colleen) Atchison, Joel Atchison, and Kristin (Femi) Atchison Oriogun; three great-grandchildren Paul, Blake and Adam Atchison; one sister Bernice and two brothers Glenn and Charlie.  He was proceeded in death by his parents, seven brothers, two sisters and an infant son Steven Lee.
 
His funeral service was held at 11:00 am at Benson Funeral home on May 29, 2012 with Pastor Dale Hodges officiating and with burial at the Worthington Cemetery.
 
Arrangements are with Benson Funeral Home in Worthington.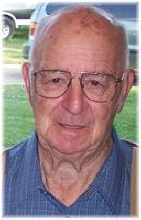 Thank you for sharing your
memory of Alfred
Provide comfort for the family by sending flowers or planting a tree in memory of Alfred Earl Atchison.
No thanks, please don't show me this again.